Posted by admin
on May 23rd, 2011 filed in
Oggetti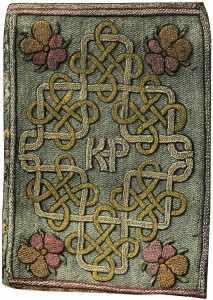 The Miroir o Glasse of the Synneful Soul è un manoscritto che la leggenda vuole sia stato donato all'allora regina Katherine Parr dall'allora principessa Elizabeth nel 1544, quando la futura regina aveva undici anni. Il libro reca la dedica From Assherige, the last daye of the yeare of our Lord God 1544 … To our most noble and vertuous Quene Katherin, Elizabeth her humble daughter wisheth perpetuall felicitie and everlasting joye.
Il libro misura 7″ per 5″ e presenta copertine gemelle sul fronte e sul retro: raffinati punti di passamaneria in oro e argento su seta blu con le iniziali della regina nel centro e violette agli angoli, in porpora, verde e giallo.
Un volume gemello a questo è Prayers of Queen Katherine Parr, anch'esso attribuito a Elizabeth e datato 20 dicembre 1545: come il precedente, che contiene una traduzione dal francese del celebre libro delle ore, il volume è una raccolta di preghiere composte dalla regina stessa in inglesr, tradotte dalla principessa in francese, latino e italiano, manoscritte su pergamena e corredate da una copertina ricamata molto simile a quella di The Miroir. Il secondo volume contiene due iscrizioni, una alla regina che recita Precationes … ex piis scriptoribus per nobiliss. et pientiss. D. Catharinam Anglie, Francie, Hibernieq. reginam collecte, et per D. Elizabetam ex anglico converse., e una dedica vera e propria, per quanto asciutta, rivolta al padre: Illustrissimo Henrico octavo, Anglie, Francie, Hibernieq. regi.